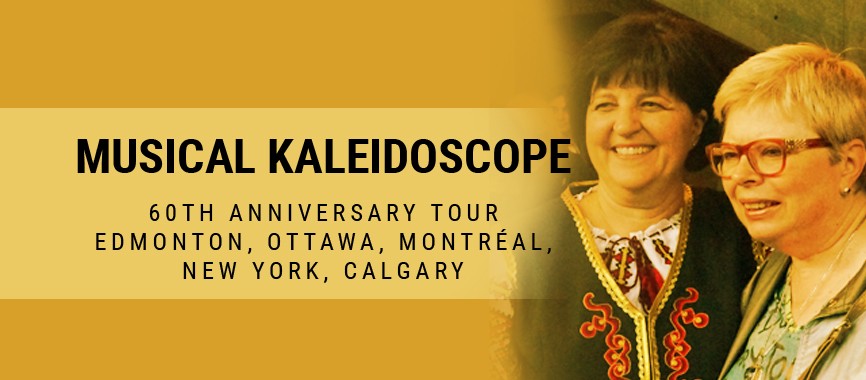 Musical Kaleidoscope 60th Anniversary Concerts
On June 29, 2014, Dnipro Choir began its 60th anniversary with a concert at home in Edmonton and continued with a concert tour in Ottawa, Montreal, New York City and Calgary.
Read more about Dnipro's History
Sponsored by the Shevchenko Foundation

---
The Ukrainian Dnipro Ensemble celebrated six decades of choral music excellence with "Musical Kaleidoscope," its 60th Anniversary Concert, 7 p.m. Sunday, June 29, 2014 on the Shoctor Stage at the Citadel Theatre. All selections featured in this concert were composed or arranged by Canadian composers of Ukrainian descent:
Serhiy Eremenko
Yuri Fiala
Roman Hurko
Oleksander Koshets
Larysa Kuzmenko
Zenoby Lawryshyn
Denise Lucyshyn
Joanna Estelle-Storoschuk
Willi Zwozdesky
Exclusive to the Edmonton concert was the premiere of Spokonvichni luny, a choral-instrumental work by Andriy Talpash of Edmonton. This work was commissioned to mark the choir's 60th Anniversary. Click here for more information on this work.
Following the Edmonton performance, Dnipro Choir embarked on a tour to Eastern Canada and USA from June 30 – July 7, 2014 performing in Ottawa, Montreal, and New York.
---
EDMONTON, ALBERTA
Sunday, June 29, 2014 @ 7:00 PM
Citadel Shoctor Theatre
9828 101A Avenue
---
OTTAWA, ONTARIO
Tuesday, July 1, 2014 @ 3:00 PM
First Baptist Church
140 Laurier Avenue West
---
MONTRÉAL, QUÉBEC
mercredi le 2 juillet 2014 – 7:00 p.m.
Église anglicane St. George
1101, rue Stanley
---
NEW YORK, NEW YORK
Sunday, July 5, 2014 @ 3:00 PM
The Ukrainian Institute of America, Concert Hall
2 East 79th St.
---
ELLENVILLE, NEW YORK
Sunday, July 6, 2014 @ 2:00 PM
Ukrainian American Youth Association's "Nadiya ye!" Festival
8853 Route 209
---
CALGARY, ALBERTA
Saturday, September 27, 2014 @ 7:30 PM
Cathedral Church of the Redeemer
604 – 1st Street SE, corner of 7th Ave & 1st St